1965 WAR
Battle Of Rann Of Kutch
In March 1965, Indian Army stopped West Pakistan Rangers from doing their guard duty near the area of Kanjarkot, this was the beginning of crisis. Indian Army deployed a large number of troops along the unmanned border in the southern mud flats of the Rann of Kutch to the south of Thar desert, and it became uneasy for Rangers to face this alone. The Indians extended their control and took over some vital areas including a Pakistani border police post called Sardar Post. In response, Pakistan Army was ordered to push the Indians out of the area. 6 Brigade from Quetta commanded by Brig. Iftikhar Khan Janjua and 24 Cavalry from Lahore rushed to the scene.
Brig. Iftikhar known for his boldness was posted at the eastern area of Kutch. In this area, Indians had made bunkers which were protected by barbed wires. Instead of an Infantry division present in the area, another 50 Para Brigade reached there to capture Kutch. During the battle, Lt. Nadir Parvez of 6 Punjab Regt. led a fighting patrol behind enemy lines, destroyed an Indian post and safely brought back the patrol. On 24 April, Pak troops attacked Indian positions and vacated the enemy bunkers. 2nd Lt Sharma and three Indian soldiers were made prisoners. During this attack, Brig. Iftikhar got minor injuries from splinters of a shell. In Biar Bet, Indian bunkers and a large quantity of arms and equipment were captured in an assault and many soldiers were taken POWs. Due to this successful attack, five to six miles of area was vacated from Indian Army and Sardar Post was also taken back. Adding to the setback for India, Pakistan flew national and international journalists to Biar Bet to show the arms and ammunition left behind by the retreating Indians.
After losing the battle in Biar Bet, the Indian Prime Minister said in a conference that if Pakistan continues to deny the fact then India would start a battle of its own choice. India claimed that the whole area of Rann of Kutch belongs to it, which was totally false. However, international intervention prevented escalation of hostilities.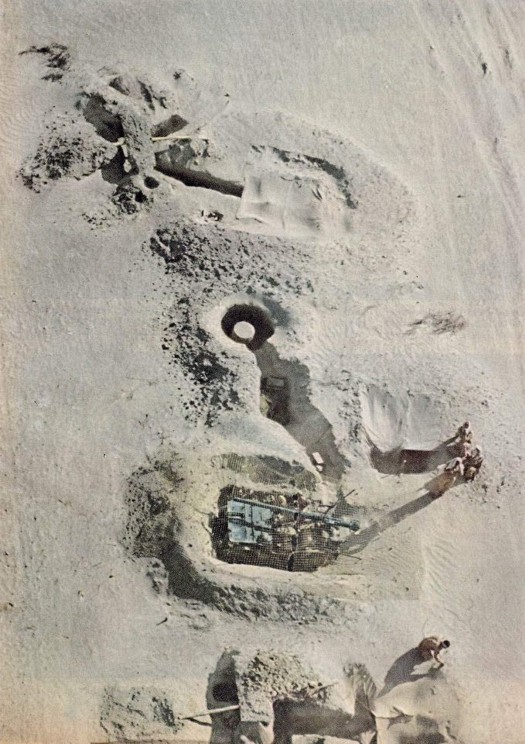 Defensive trench with 106 mm Recoilless Rifle mounted jeep in the Rann of Kutch.